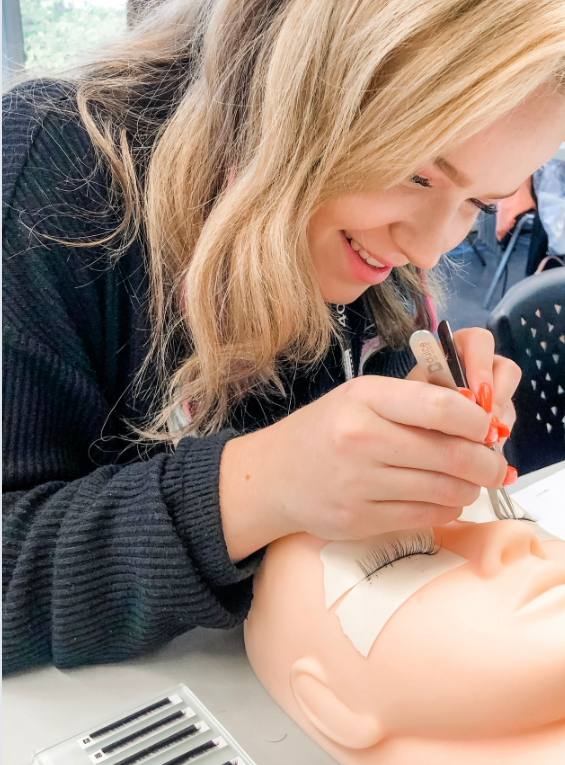 BECOME A LASH EDUCATION PARTNER
(ACCOUNT SET UP)
Regular price $250.00 Sale
---
Are you ready to take your career as a Lash Artist to the next level and become a Lash Trainer? Then we have an amazing opportunity that may be right for you! 
How does this work?
You promote, coordinate, and fill your own lash trainings. 

You determine your class price and handle all payments. We do not take any cuts or commission. You are a brand partner of Dulce Lash Artistry and not an employee or contractor. 

You'll get access to our education portal to utilize our Classic lash training presentation, training resource guides/forms and be able to certify your students. 

Each student who successfully completes lash training with your company will receive a lash certificate that is recognized by both your company + Dulce Lash Artistry.

You'll receive wholesale pricing with up to 40% off lash kits & products.

You have total

 flexibility to use our lash curriculum and incorporate your own personal knowledge & style to create the ultimate learning experience for your students.

In addition, you'll receive a complimentary mentorship session.
Who is this for?

This opportunity is for experienced, serious Lash Artists who:
Are ready to expand their lashing business and build their brand
Want to be their own boss and who are self-driven needing minimal support
Are passionate about the beauty industry and eyelash extensions
Are willing to share their knowledge and experience in the field of lashing and business to help others succeed
Has a patient and caring attitude to help answer questions, coach and train new learners 
Can market, promote, coordinate and teach their own lash classes
Are not afraid to present in front of others
Why Partner with Us?
We've been in the lashing business since 2012 and have successfully trained thousands of Lash Artists to date. Our curriculum is renowned for being easy to learn and teach. Additionally, we collaborate with prominent well known beauty brands and Lash Artists within the industry. 

Our Education Partner program is designed to empower Lash Artists who want to advance their career path and boost their income. By partnering with us, we offer mentorship and essential resources to ensure you feel set up for success as a Lash Educator by providing materials that help your students receive the foundational training needed to kick-start a career in lashing.
What are the costs?

There is a one-time account set up fee: $250
And a monthly licensing fee: $299 (Allows you access to our education portal to utilize our lash curriculum, training resource guides/forms & certification program)
How do I get started?

You must apply to become a Dulce Lash Artistry Education Partner by adding this to your cart and submitting the one-time account set up fee of $250.
After payment, please email info@dulcelashartistry.com to submit required copies of your:
Business License & Insurance
Cosmetology or Esthetics License
Dulce Lash Artistry Classic Lash Certificate (Certification from other lash brands is a bonus)
Social media handles for us to assess your lashing skills - You must be an active Lash Artist.
Our team will then respond to you within 5 business days.
If you are selected as an Education Partner, we will email you the onboarding packet to complete your account set up. The one-time account set up fee will be non-refundable.
If you are not selected as an Education Partner at this time, we will refund the $250 account set up fee you paid.
Why might someone not be selected as an Education Partner?
Disclaimers:
• Certification. Definition of Certification or Certificate of Completion represents that a student has undergone training and achieved the lashing techniques by Dulce Lash Artistry. It does not guarantee the success or quality of the student with regards to lashing. Education Partner and/or their students understand that a Certification may not give an unlicensed individual the right to practice, perform or charge for lash services to the general public. Most states will require a Cosmetology or Esthetics license. See State Licensing below.
• State Licensing. It is the responsibility of any potential Education Partner to contact their respective state licensing board (usually referred to as Stateboard of Cosmetology) to inquire about licensing requirements for applying or teaching eyelash extensions and to follow these requirements. Requirements and licensing varies from state to state and Dulce Lash Artistry does not keep knowledge of each states requirements or changes to the requirements. Those interested or applying to become a Dulce Lash Artistry Education Partner understands and agrees that Dulce Lash Artistry will not be held liable or responsible for such information.
PLEASE NOTE: For those who are located in the State of Kentucky, please note that you will not be eligible to apply to our Education Partner program unless you currently hold an instructors license. 
#lashextensiontraining #lashextensions #classiclashing #volumelashing #lasheducators #lashtraining
We set you up for success! Get the biggest return on your investment.Here's whats included with your tuition: -Essential Lash Kit (All the lash products you need for class and plenty more to jump start your lashing business. *Does not apply to online courses unless you select the option with kit purchase.) -Training Manual -Certificate of Course Completion -Unlimited FREE refresher courses for life *Only applies if you register for an in person class. Please Note: You will receive these items on the day of class.
DO I NEED TO BE A LICENSED COSMETOLOGIST OR ESTHETICIAN IN ORDER TO TAKE THIS CLASS?
We only encourage licensed beauty professionals or those currently in beauty school to enroll in our courses.
Here's why: Most states require that you are a licensed Cosmetologist or Esthetician in order to perform lash services on the general public and to charge a fee. There are currently only a few states that do not require a license to do so.
It is the responsibility of the student to know what the licensing laws are in their state before enrolling into our course. So in short, we don't want you to take a class that you won't be able to get the best return out of your investment as all tuition payments are non-refundable. Sure a lot of other companies will let you do it - but we take pride in our program and want to ensure you have the best experience with us.
However, if you are:
1) A salon manager or owner wanting to learn more about the benefits of offering lash extensions.
2) Seriously thinking about enrolling into a Cosmetology or Esthetic program because you are interested in becoming a Lash Artist AND want to see if this is for you first.
3) Live or plan to work in a state that does not have lash extension licensing requirements.
Then we are absolutely open to you enrolling in our courses.
SEE MORE FREQUENTLY ASKED QUESTION - CLICK HERE